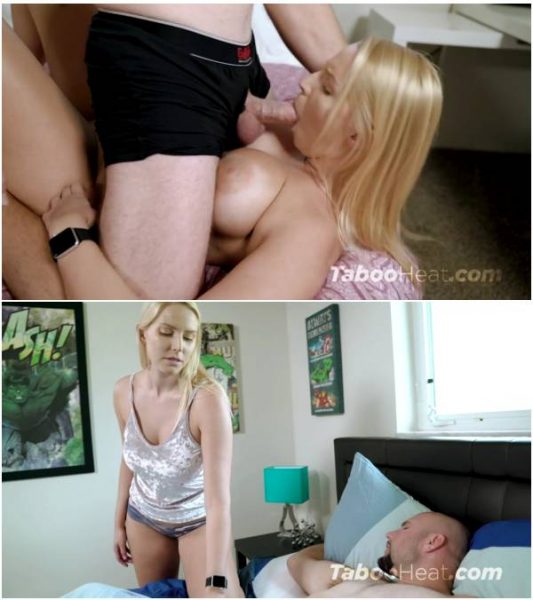 48 min 52 s | 1.06 GB | 1920×1080

Scene One: Morning Coffee
Cory and Luke are sitting at their kitchen table with Cory's sister, Vanessa, at the opposite end. Vanessa is sitting there in a green dress biting her nails and spitting them out, which is a habit that she's had since she was a . Cory and Luke are both disgusted by this habit and are eager to get her to stop doing it. Vanessa explains to her sister how she has an oral fixation and that's why she's never been able to stop this bad habit. Cory goes off to work, but before she does, she begs her husband to get her to stop biting her nails through a psychological technique. Vanessa tells Luke that maybe if he stuck his dick in her mouth, then she would be able to stop biting her nails because her mouth would be preoccupied… Luke hesitates for a moment but once Vanessa spits her nail at him, he decides to give it a try! She pulls her dress down, revealing a matching green bra, and then she pulls her bra off as well. He starts to play with her big tits which gets his cock hard pretty quickly. She starts to suck his cock while moaning "I love having something in my mouth!" Luke tells her that he hopes this will cure her problem! She sucks his cock until he cums deep inside her mouth. Once he takes his cock out of her mouth, she puts her finger nail back in her mouth! Luke is going to have to find another cure for his sister-in-laws bad habit…
Scene Two: Alleviation
"Luke…Luke!" Vanessa starts yelling from her bedroom. Luke walks in to his sister-in-laws bedroom to find her lying completely naked on her bed. "I need some more therapy!" she exclaims. When he initially resists, she tells him that she could just keep biting her nails and spitting them at him. She spits her nail in the air, which makes him give in to her seduction. He jumps on the bed and starts to eat her pussy, before undressing and letting her suck his cock. "This is good; no nail biting!" Once he gets really hard, he puts her in to the doggy style position and starts to fuck her pussy from behind. "I guess this will stop me from biting my nails too! Am I better than my sister? Fuck me like you fuck my sister!" she moans. "You're so much tigher than your sister!" he exclaims. She starts to crave something in her mouth again so she puts his cock back in her mouth. Then he goes to fuck her pussy again so he can watch her big tits bounce up and down. While he fucks her, she sneaks her finger nail back in to her mouth but Luke catches her! "Sneaky girl!" he says, as he puts his cock back in her mouth to try and stop her bad habit. He ends up cumming in her mouth and on her face… but she tells him that she can't promise that her oral fixation will be cured! With the cum still on her face, she can't help but start to bite on her nails again… "Well, your brother's going to be here later so maybe you can talk to him about it," Luke tells her.
Scene Three: Foot of Prevention
Vanessa's brother, JMac, is hanging out at their house playing games on his phone. Vanessa sits down next to him on the couch and she starts biting her nails and spitting them next to him, which starts to gross him out. "At least I stopped biting my toe nails like I used to!" she tells him. She keeps spitting her nails at him and he starts to get really annoyed at her… "you could just let me put your big dick in my mouth and then I'd stop!" she tells him. JMac assumes that she is joking around with him, but he pulls his cock out of his shorts anyway. The second he pulls his cock out, she quickly bends down to put it in her mouth. "Oh ! You're really doing this?!" he asks her. Of course she was serious… her oral fixation is a real problem!! "It's so big!" she moans while sucking her brother's big cock. "Isn't this so much better than having me bite my nails?!" she asks him, and of course he agrees with her. Vanessa starts to get really hott so she pulls her shirt over her head, exposing her big tits; then she goes right back to sucking JMac's hard cock! She deepthroats his cock for a bit, until she decides to take her shorts off too. His cock is out of her mouth for just a few seconds, but she starts to bite her nails again already! She shoves her brother's cock back in her mouth to stop her from continuing her bad habit again. He ends up cumming in her mouth and she swallows every drop of it… but once she is finished, she goes right back to biting those nails again! "I guess I can't help it… it's a bad habit…"
Scene Four: Affliction Obstruction
Vanessa is napping in her pink and white bed and she is biting her nails without even being aware of it. She opens her eyes to catch herself with her nails in her mouth… "I wonder if my brother is awake to help me stop doing this," she asks herself. She climbs out of bed and sneaks in to her brother JMac's bedroom. He is taking a nap but that doesn't stop her from peeling the blue and white blanket off of his body and pulling his cock out from underneath his boxer shorts. She takes her pajama shirt off which leaves her sitting in just her tiny army panties, as she starts to put his big cock in her mouth. He opens his eyes and asks her what on earth she is doing! "I'm trying to cure my oral fixation! You know it takes a long time to fully cure bad habits!" she tells him. Plus, he is awake now so they might as well continue! He fucks her throat and she loves every second of it, taking his cock harder and deeper in to her mouth. "I can think of another way to help my fixation," she starts to ask him, "Can I get on top of you? I've never had a cock as big as yours!" He agrees, as she slides her panties off and straddles his cock.
While he fucks her pussy, she secretly starts to bite her nails at the same time. "I need something in my mouth!" she tells him, as she hops off his cock and starts to give him a blow job again while she is bent over in the doggy style position. Her ass looks so good that he tells her to stay right there, so he can fuck her pussy from behind next. "That feels so good, big bro! But I need it in my mouth again!" she moans. She gets on her back and sucks his cock again before letting him stick his big cock back in her pussy. She stares deep in to her brother's eyes while he fucks her harder and harder. "Why don't you put it in my mouth again, big bro?" she asks him, because her oral craving has started to come back! "Are you going to cum in my mouth like Luke did?" JMac is now confused as to when she fucked Luke, but he decides to ignore that comment right now. He fucks her pussy one last time before pulling out and exploding in her mouth and on her face. Unfortunately, once they are done fucking, Vanessa starts to bite her finger nails again… I guess some bad habits just can't be broken!
Sex Acts/Tags: tabooheat.com, barebackstudios.com, clips4sale.com, vanessa cage, luke longly, jmac, brother sister, incest, taboo, blowjob, deepthroat, cunnilingus, doggy style, missionary, facial, face fuck, cowgirl, spooning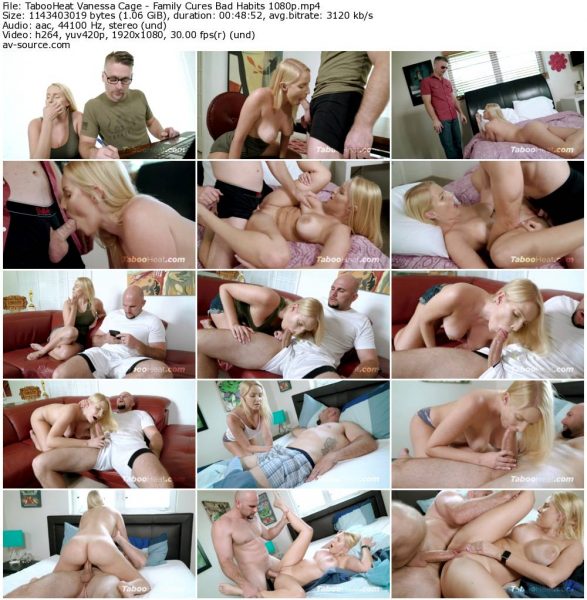 Download:
TabooHeat_Vanessa_Cage_-_Family_Cures_Bad_Habits_1080p.mp4