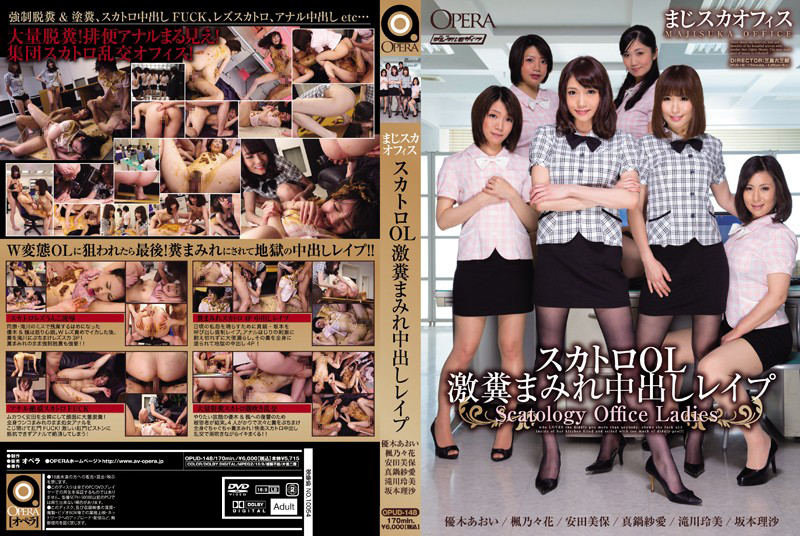 [OPUD-148] Scatology Office Ladies まじスカオフィス スカトロOL 激糞まみれ中出しレイプ 楓乃々花 アナル 坂本理沙 優木あおい
June 18, 2020 - Scat Clips
Are links dead? Subscribe to av-source.com and email me at avsource@protonmail.com to get links for this siterip.
2 files | 1080p | 7.18 GiB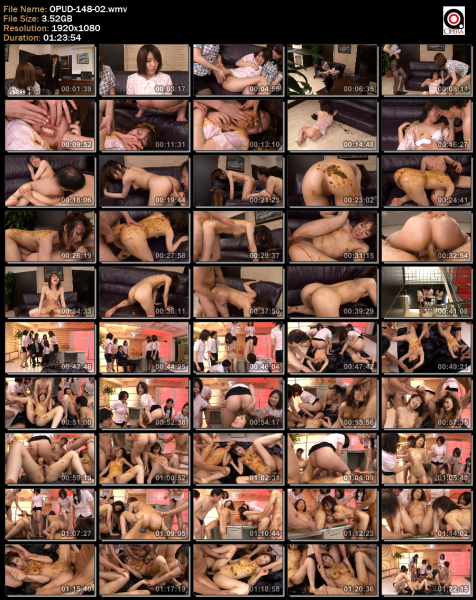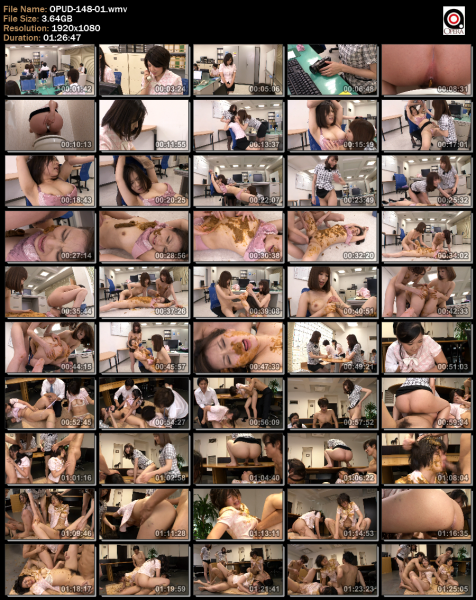 Scene 1:
In an office building, nasty guys and cute girls are working. They discuss some office stuff and have a meeting. Aoi Yuuki and Nonoka Kaede don't seem to like the four new girls in the office. Miho Yasuda leaves and Nonoka gives Aoi a nod. She takes out her video camera and follows her into the restroom. Miho straddles the toilet and Aoi sneaks up and starts to film her taking a shit through the bottom of the door. When she finishes Aoi washes her hands as a unsuspecting Miho walks out.
Scene 2:
Later on in the day, it's just Aoi, Nonoka and Rumi Takigawa. Aoi grabs her arms and Nonoka starts to make out with her. They strip off her shirt and Aoi starts to film again. She finger bangs her pussy and they tie her arms with her own pantyhose. Both girls continue to molest her body then Aoi takes off her skirt and pushes out a huge shit right onto Rumi's tits. Aoi laughs and it's Nonoka's turn. She puts her ass right over Rumi's face and starts to push. Only a small load comes out on her cheek. Aoi grabs a enema syringe and pushes the entire load into Nonoka's asshole. A massive foot long wet shit lands right on her chest! The girls rub the waste onto her body covering it in shit. Aoi rubs some on her tits then sits on Rumi's face. She even pushes out another load onto her neck which Nonoka rubs on her body. They place Rumi up on a chair and hold her ass apart and make her shit on the floor. Aoi smiles and rubs the shit over Rumi's back and face as the camera on a table is filming everything.
Scene 3:
The next day, Aoi and Nonoka are in the break room. The girls laugh at the two nasty guys at the other table. Risa Sakamoto and Sachika Manabe enter the room and Aoi and Nonoka have an idea. The girls go to the meeting room and talk. All of a sudden the ugly guys form the break room enter and take Risa and Sachika and molest them on the floor while Aoi films! The guys have no idea what they are doing and continue to move around touching the girls bodies. Aoi squats over Sachika and spreads her asshole and shits on her tits while the other guy holds Risa face close. Nonoka is next and shits out liquid diarrhea all over Risa's pussy mound! They rubs the shit on the girls bodies and the guys make the girls blow their cocks. Aoi needs to go again and Sachika is placed right under her ass and she shits all over the top of her head!! Nonoka shits onto Sachika's face covering it in pure diarrhea that shoots onto her body also. Aoi and Nonoka rubs the shit all over the girls bodies and they get fucked by the guys in various positions. While Sachika is getting fucked in reverse cowgirl she starts to shit a small load onto the guys stomach as Aoi and Nonoka watch. Risa needs to shit and Sachika is forced under her as Aoi holds her ass open. The idiot guy gets in the way of the camera and shit lands on her face. The guys continue to fuck the girls and give them creampies. The guys don't leave and Aoi and Nonoka are happy. The nasty manager sticks his head in the room, smiles then leaves….wtf.
Scene 4:
The next day, Aoi and Nonoka are in the managers office. The nasty guy tries to plays mini putt but fails and he talks to the girls. It cuts to cute Miho Yasuda alone in the same office and the two girls walk in. She looks nervous. Nonoka grabs her and they strip off her skirt and spread her legs on the couch. She plays with Miho's pussy as Aoi holds her. Nonoka pulls off her pantyhose and skirt and puts her ass right over her face. She pushes out liquid shit that covers her chest and the couch then rubs her dirty ass on her face. It's Aoi's turn and they place Miho on the floor. Aoi gets above her and starts to shit out a huge load over her hair while Nonoka holds her. They rub the shit over her body and Nonoka needs to shit again!! A running load comes out of her ass onto her hair. The two girls leave……and here comes the ugly manager. The guy has no idea what is going on and touches her and fucks her pussy. She shits onto the floor and she blows him and they fuck in different positions. He then fucks her ass and cums and Miho pushes out shit and cum.
Scene 5:
The four girls have a meeting with the manager. It seems they filmed him having sex with Miho and are blackmailing him now. Aoi and Nonoka try to tell him it was their idea but he doesn't care. The two douche bag guys grab Aoi and Nonoka and strip their clothing off. Rumi and Miho shit on the stomachs of both girls while the guys hold them down. They finger fuck their pussys and both girls heads are put together and Risa shits over on both girls hair. The guys make them suck their cocks as the manager moves back and forth to each girl…..the other girls continue to shit over Aoi and Nonoka's bodies and the guys start to fuck them. Aoi get's into reverse cowgirl and while the guy is fucking her she pushes out a massive shit onto the guys stomach. Nonoka is given a enema and she pushes the water and shit all over a table as the girls watch. She pushes out more shit as Aoi is fucked form behind. The two guys cum inside their cunts and the girls leave.
Download Links:
OPUD-148-01.wmv – 3.6 GB
OPUD-148-02.wmv – 3.5 GB

Are links dead? Subscribe to av-source.com and email me at avsource@protonmail.com to get links for this siterip.
› tags: 1080p / anal creampie / aoi yuuki / asian / bullying / censored / creampie / diarrhea / dirty enema / Enema / Fetish / japanese / jav / kaede nonoka / Lesbian / miho yasuda / Nonoka Kaede / office outfit / OPERA / OPUD / Pantyhose / piss / Ripped pantyhose / risa sakamoto / rumi takigawa / Sachika Manabe / Scat / shit smearing / アナル / スカトロ / 中出し / 坂本理沙 / 安田美保 /