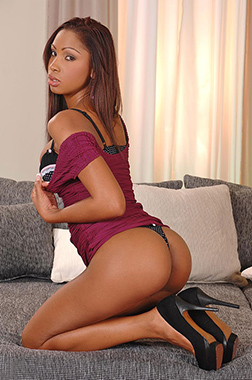 Katia Deslys Video SITERIP (2010-2016)
Май 4, 2021 - SITERIPS
57 videos | 23.46 GB
Description:
They said the revolution came to Cuba in the '50s, but forget about Castro and Che and all the other mountain men. The real revolution came to Cuba when Katia De Lys opened up her legs and spread her Havana honeypot.
Throw in the freeing of her fat Cuban cans and it's a true XXX Revolution. This half-Ebony beauty has some of the most impressive natural DD knockers in the game. Katia's tits make fellas drool like breastfeeding 2-year-olds,
except with a growing man-shaft between their legs. When she bares them, you just wanna slip your flesh-rod in between those chocolate mountains for some good ol' tit-fucking. It isn't all boobs with Katia, however,
because this lady sure knows how to utilize all her other assets. Every inch of her bouncy body makes you wish this mega slut was a permanent fixture in between your sheets, in your shower, and under your desk at work.
The fun isn't limited to Katia's front channel, though. This knockout has such an amazing backdoor that you might just start secret negotiations to immigrate to Cuba through the rear entry. Fellas, beware,
because this Latin pepper likes more than just frying your Frankfurter. Katia de Lys doesn't shy away from some hot and steamy girl-on-girl action.