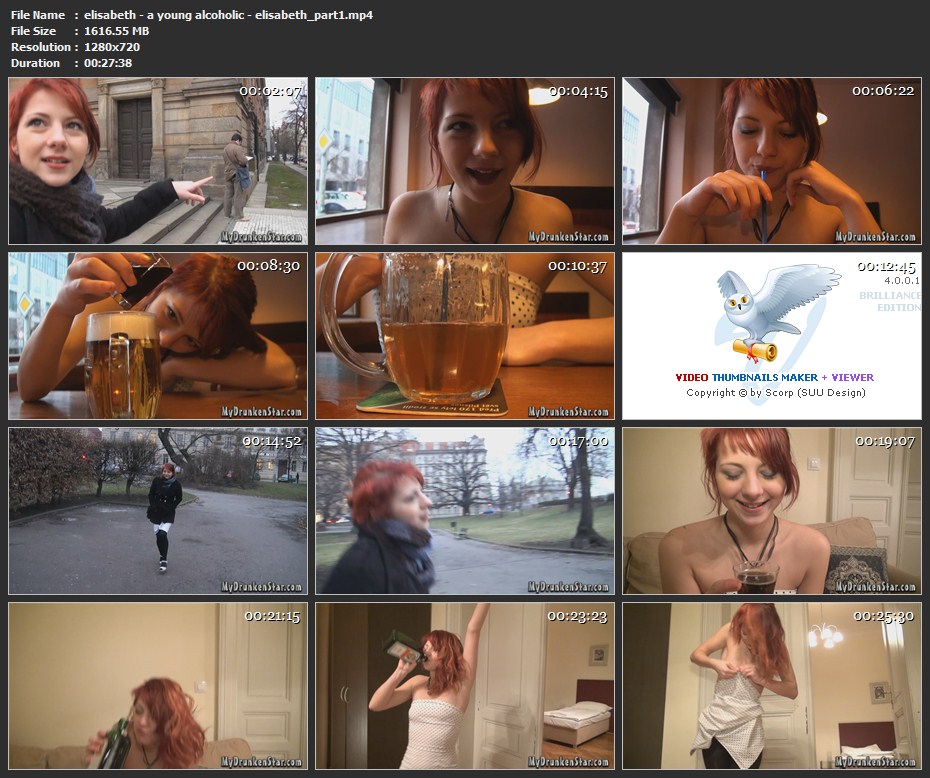 MyDrunkenStar SITERIP (2013)
November 13, 2017 - Extreme
Are links dead? Subscribe to av-source.com and email me at avsource@protonmail.com to get links for this siterip.
46 clips | SD/HD | 54.15 GiB
Description:
My Drunken Star is a great way to get as up close with the girls of WD Girls that you fancy as possible. But then again, when you get up close, you might get a bit of their piss and vomit on yourself. My Drunken Star is complete drunken realness with all sorts of seemingly good and decent girls getting loaded with booze and struggling through their own apartments and parks and what not for that extra bit of fun. Who cares if they undress somewhere along the way and who cares if they look totally stupid and messed up? That's the beauty of it, now available as video on demand!
These are all original scenes filmed for My Drunken Star. The girls are given a bottle and a mission, often to take a shot every so often or chug a bottle or what have you. We follow the whole event, from sober to wasted, and in between we see lots of stumbling, pissing, throwing up, babbling, and sure, some nudity. They give the girls sobriety tests and it is pretty entertaining to watch them fail miserably. I'm not sure this is spank-worthy material, but it is very interesting to watch!
Oh boy, girls in Europe sure like partying. My Drunken Star is a great site if you like wasted girls doing all sorts of wild wasted shit. Unlike WD Girls, it does not require a monthly subscription. Instead, you buy some credits and spend them on episodes you like. Of course, you can preview all of them, and they have like dozens of projects to choose from. With a very reasonable price per project which gets even lower if you're a WD Girls member, My Drunken Star is pretty much a must visit for anyone into drunk girls. And by drunk we mean really ruined. These episodes, or projects, as they refer to them, are totally fucking outrageous. There is no sex happening here, and the episodes pretty much feature the girl going solo. The camera captures it all from pouring the first shot to falling down into the puddle of her own vomit or piss. Or maybe even both. You can almost feel their breath reeking of booze, that's how real this is. The episodes have three parts usually, each around 1,000Mb in size if you go for HD and like 5 times smaller if you go for SD. Each credit is just a buck and at 15 (or 9) credits per episode which runs for a really long time, it's a steal. The episodes are yours to keep and you can re-download them whenever you want. These people are serious about their stuff, they constantly get new next door European girls shit-faced – and filmed. Those credits, you'll always have stuff to spend them on!
46 clips | SD/HD | 54.15 GiB
https://siteripz.cc/mydrunkenstar-siterip/
Are links dead? Subscribe to av-source.com and email me at avsource@protonmail.com to get links for this siterip.