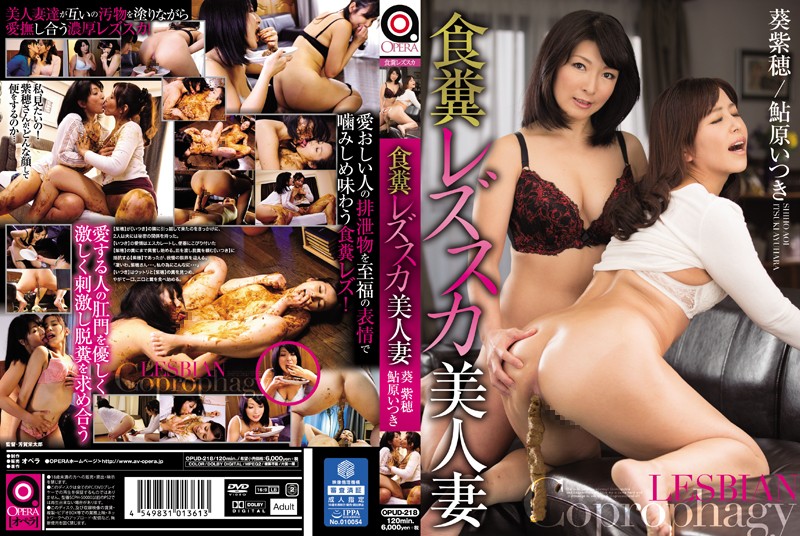 [OPUD-218] Lesbian Shit Lovers – Shiho Aoi, Itsuki Ayuhara 食糞レズスカ美人妻 芳賀栄太郎 Scat スカトロ Coprophagy [1080p]
June 19, 2020 - Scat Clips
Are links dead? Subscribe to av-source.com and email me at avsource@protonmail.com to get links for this siterip.
1h 56min | 4.87 GB | 1920×1080
Scene 1:
Itsuki Ayuhara (Pink Shirt) and Shiho Aoi (Blue Shirt) are on a bed making out. Itsuki takes out a blue dildo and teases Shiho. She massages her tits then rubs the dildo on her blue panties and pulls the panties to the side and inserts the dildo into her cunt. The two woman then eat each other out and Itsuki rubs her girlfriends feet on her tits. Bending over, Itsuki shows Shiho her ass and she starts to rub her pussy and licks it then uses the dildo on her pussy. They finish off their sex session with a 69 and finger banging each other.
Scene 2:
They make out again then strip down to their panties. They have a talk and Itsuki goes into the bathroom. She sees a small pile of shit in the toilet! She sticks her finger in and scoops up some. Shiho approaches her and sees that Itsuki has shit on her finger. She sticks it straight into her mouth tasting and eating Shiho's waste on her tongue while she watches. Shiho is embarrassed and needs to use the toilet but Itsuki takes her into the bed room. She is in pain and needs to shit but Itsuki wants her to shit for her. She can't hold on anymore and squats down with Itsuki holding a white plate over her cute asshole. She shits out a huge amount of waste onto the plate as Itsuki watches and drools!! She then starts to eat the waste, chewing it and taking more and more shit into her mouth! Shiho can't believe what Itsuki is doing.
Scene 3:
The two women are talking in the living room and Itsuki gets up and takes off her skirt. She makes Shiho finger bang her pussy then she starts to shit onto the floor. Massive amounts of waste comes out of her asshole including strings of pussy cream! Shiho is mega shy and watches her. They start to makeout and Itsuki rubs Shiho's body and finger bangs her pussy. Itsuki lays down on the floor and makes Shiho shit on her stomach!! She pumps out wet shit and pee onto her lovers waist. Itsuki is so happy and rubs the shit all over her body while Shiho watches over her. Itsuki makes her lover lay on the floor then pushes out two feet of shit onto her stomach!!!! She rubs the waste all over Shiho's body covering it in shit. They rub their bodies together and Itsuki licks the shit off her tits. She brings out a double sided dildo and inserts it into Shiho cunt and fucks her with it. The girls then ride the dildo together while completely covered in shit!!!
Scene 4:
In the bed room, both women are dressed in white and Itsuki squats over Shiho's hands and pushes out two feet of shit. Shiho has finally accepted her lovers shit play and shows her the waste. Itsuki takes it and rubs each of their clothed bodies covering it in brown waste. She plays with Shiho's panty covered pussy and rubs shit on it. They makeout and rub each others bodies. Itsuki sits on Shiho's face and rides her while playing with her cunt and cums. Both women makeout at the end while covered in shit!


(click secondary mouse and open image in new window for the full view)
Download Links:
OPUD-218-01.wmv – 4.9 GB
Are links dead? Subscribe to av-source.com and email me at avsource@protonmail.com to get links for this siterip.