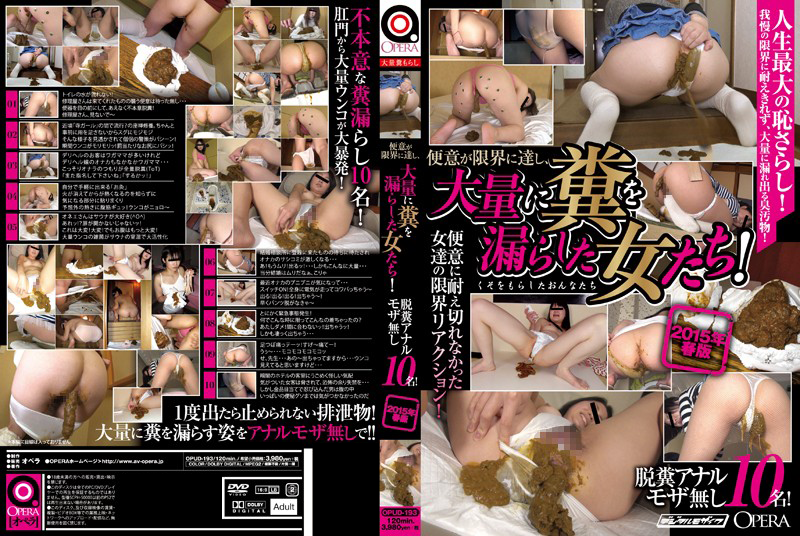 [OPUD-193] 10 Japanese Girls Panty Pooping! 便意が限界に達し、大量に糞を漏らした女たち 脱糞アナルモザ無し… スカトロ Scat [1080p]
June 19, 2020 - Scat Clips
Are links dead? Subscribe to av-source.com and email me at avsource@protonmail.com to get links for this siterip.
1h 58min | 4.28 GB | 1920×1080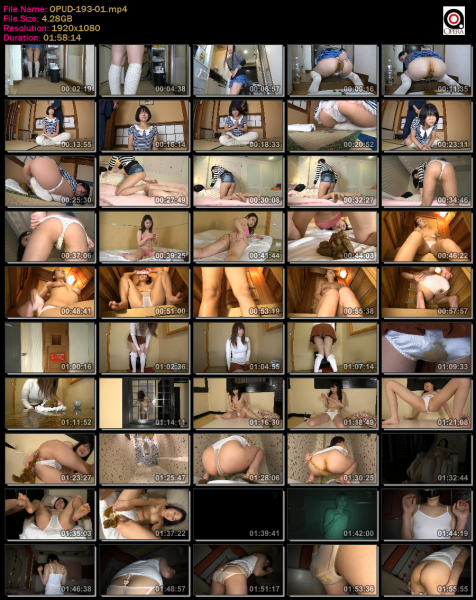 Scene 1:
A girl in a cute skirt is in an apartment and she talks to someone on the phone saying her toilet is broken. A guy comes and fixes it then leaves. She notices that the toilet is still broken. Doing the dishes her stomach starts acting up and she can't hold it. She gets on the floor on her knees and her butt in the air then starts to push shit into her white panties. The shit fills her panties and she needs to shit again. She moves them to the side and liquid poop shoots out onto the floor. Moaning she pulls down her panties and shoots out a massive brown log. The girl then pees all over her shit!
Scene 2:
Saya Takazawa is in a meditation pose with some nasty guy walking around her holding a punishment stick of some sort. He keeps walking as she is trying to concentrate. He taps her on the shoulder a bunch of times. She then farts and tries not to laugh as the guy taps her shoulder again. He finally leaves the room and she lifts her butt off the floor and starts to pee her white panties. She covers up the mess then the guy enters the room…..He slaps her shoulder again and she starts to shit her panties with a massive load! She takes off her panties and raises her butt into the air and pushes out more shit onto the floor. The guy keeps slapping her ass with the stick as Saya pushes out more poop.
Scene 3:
A douche bag guy is laying on a bed and a girl wearing a short skirt with white panties and pantyhose massages his back. The douche bag doesn't seem to like it and she tries her best. She moves off the bed and needs to shit but he won't let her leave. She lifts her skirt and pushes liquid waste into her panties! It spreads through her pantyhose and runs down her legs. Her white panties can't hold the amount of shit and it leaks out. The sound is amazing as she pushes out the liquid shit!
Scene 4:
A girl is sitting on a bed and takes out some strange circle thingy she lights then sticks them all over her body (I have no idea wtf these things are. Maybe some sort of acupuncture things?). She sticks a ton on her butt then lifts her ass into the air. She pushes out inch after inch of shit onto the bed through the side of her pink panties! A massive pile is now on the bed as she moves her panties to the side then pushes out another 12 inches of shit!
Scene 5:
In a bathroom with a sauna a girl strips her clothing off and enters the sauna. After relaxing she tries to exit the sauna but it's locked. She has to use the bathroom and squats and starts to shit her panties. Not much comes out so she pulls them down and a ton of shit comes out of her asshole!
Scene 6:
A cute girl is in a room waiting. She sips some tea then needs to use the bathroom. She tries to hold it in but can't. Standing up, she starts to shit into her white panties. A massive bump appears staining her panties. She continues to push as more shit fills her panties. She then takes off her loaded panties and places them on the table and leaves!
Scene 7:
A girl sitting on a mattress has these electrode pad thingy attached to her stomach. She starts them then struggles. She can't hold in her shit and she squats and releases a massive amount of shit onto the mattress! She pushes out a massive load then lays over and pushes her panties to the side as she pushes out more shit!
Scene 8:
In a bathroom stall. A girl enters and tries to remove her clothing before she goes. She's too late and starts to push shit into her panties. The shit doesn't go anywhere and builds covering filling her panties. She squats down and tries to push again filling her panties. Grabbing her panties she exposes her asshole and pushes out more shit into the toilet. She removes the panties and puts them next to the toilet. The camera pans out showing the destroyed toilet covered in shit!!
Scene 9:
A girl is laying on a chair and a douche bag guy is massaging her foot. She starts to push out shit into her white panties and it overflows. The liquid shit runs out onto the chair. She moves her panties to the side and pushes out another huge wet load of shit!
Scene 10:
A girl is sleeping in a bed and a guy enters the room. She scared and puts up her hands. She pisses in her panties then he makes her shit her panties. She pushes out shit into them. A massive bulge appears in her panties. She removes her panties and shows the camera the huge load of shit!
Are links dead? Subscribe to av-source.com and email me at avsource@protonmail.com to get links for this siterip.